In Honored Memory of Our Departed Members
Wilson V. Eagleson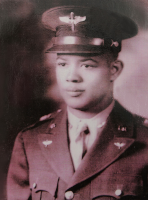 Eagleson, a native of Bloomington, Indiana, completed his civil pilot training at West Virginia State College in 1939. Upon graduation, he enlisted in the U.S. Army and completed the Aviation Cadet Program at Tuskegee in April 1943. Eagleson was stationed at Camp Waters in Mineral Wells, Texas and then reassigned to the Army Infantry Officer Candidate School at Fort Benning in Columbus, Georgia.
Harold Webb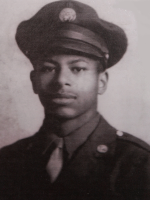 A native of Greensboro, North Carolina, Webb followed his brother who was a civilian flight instructor that trained military pilots at Tuskegee. He enlisted in the United States Army Air Corps and completed the Aviation Cadet Program at Tuskegee in 1943. Webb was stationed in Alabama and other locations from 1943 to 1946.
Hernando Palmer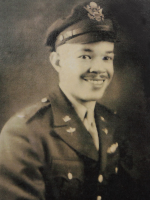 Hailing from Macon, North Carolina, Palmer developed his love for flying by riding in planes at the age of 8 and decided he would try to learn one day. During the war, he trained as a bombardier and navigator after completing the Tuskegee Aviation Cadet Program. Palmer learned to fly the multi-engine bombers, but the war ended before he could go overseas.
Joseph Burrucker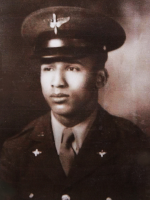 Burrucker, a native of New York City, New York, enlisted in the Army Air Corps in 1943, and was transferred to Tuskegee Alabama in 1944 where he served as an air traffic controller. Burrucker was honorably discharged in 1946.
Stewart B. Fulbright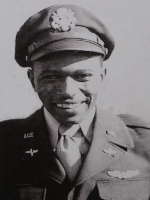 Originally from Springfield, Missouri, Fulbright completed the Aviation Cadet Training Program in 1943 and was a member of the first twin-engine class of pilots. He became a first pilot with the 619th Bomber Squadron and went on to train other pilots on B-25J Mitchell bomber aircraft. Following Tuskegee, Fulbright trained at bases throughout the country learning to handle the big bombers as part of the 477th Bombardment Group.
William E. McDonald
McDonald, a native of Detroit, Michigan. McDonald volunteered for the Army Air Corps and successfully passed all the required tests for pilot, navigator, and bombardier training. He decided to join the military in February in 1943 and was sent to Keesler Field in Mississippi where he received his Basic Training. In 1945, McDonald was transferred to Tuskegee, Alabama, where he was placed in the Pilot Training Program, class of 450. McDonald completed Primary, Basic, and most of his Advance Training for the program.
Terry C. Bailey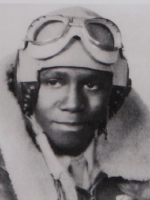 A native of Winston Salem, North Carolina, Bailey graduated from Atkins High School in Winston Salem and followed his passion for aviation by joined the U.S. Army Air Corps at the age of 17. Bailey's perseverance paid off and he eventually served as a Tuskegee Airman and continued to fly following his discharge from active military service.
George L. Shade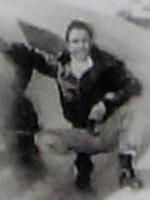 Raised in Lenoir, North Carolina, Shade attended Tuskegee Institute in August 1941. He went on to obtain his primary and secondary training in the Aviation Cadet Program at Tuskegee in the class of 42C.
Chapter Officers
President
Bobby Davis
Vice President
Oscar Mabry
Secretary
Treasurer
Thomas Smith
Chaplain
Reverend Joe A. Jackson
Parliamentarian
Varnell McDonald-Fletcher
Immediate Past President
Cleopas Mason