A Brief History of the Tuskegee Airmen
In response to public pressure, the War Department formed the all-black 99th Pursuit Squadron of the U.S. Army Air Corps in January 1941. Due to the rigid pattern of segregation that prevailed in the United States at the time, the training was to be conducted at an isolated, specially constructed army airfield near Tuskegee, Alabama, and at Tuskegee Institute. This base opened on July 19, 1941 and student pilots commenced training on single-engine aircraft. The first group of pilots graduated the following March.
These first pilots received further training overseas before their first mission, on June 2, 1943. These missions were low-level strafing attacks as they crossed North Africa. Later that year the army activated three more all-black squadrons that joined the 99th Fighter Squadron in 1944 as the 332nd Fighter Group. This group fought in the Mediterranean theatre of operations and was noted as one of the Army Air Forces' most successful and decorated fighter groups; boasting a record as the fighter group to lose only 25 bomber aircraft to enemy aircraft fire during its escort duties in World War II.
The Tuskegee program gradually expanded to train pilots and crew to operate the twin-engine B-25 medium bombers. These men became part of the second black flying group, the 477th Bombardment Group. However shortages of crew members, technicians, and equipment troubled the 477th, and World War II ended before it could be deployed overseas.
A total of 992 pilots graduated from the Tuskegee program between 1941 and 1946. Of these, about 450 Tuskegee Airmen flew combat missions over North Africa and Europe in a variety of aircraft including the P-40, P-39, P-47, and P-51 and tallied an impressive record. That record included 1,578 combat missions and 15,533 sorties in which they destroyed 261 enemy aircraft. Their record also includes the first unit to shoot down a German jet fighter and the first unit to sink an all-metal destroyer with machine gun fire. For these and other acts, graduates of the Tuskegee program were awarded an array of over 850 medals for heroic or meritorious achievements.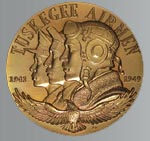 While the accomplishments of the Tuskegee Airmen went unheralded for decades, the surviving members have gained widespread recognition in recent years. There are several books on the Tuskegee Airmen, a variety of die cast P-51 models of their aircraft, several movies, and two Tuskegee Airman GI Joe action figures. Most notably, on March 27, 2007 President George W. Bush presented a Congressional Gold Medal to over 300 surviving Tuskegee Airmen at a ceremony at the White House, saluting them to "help atone for all the unreturned salutes and unforgivable indignities" they endured in the service of their country.
Chapter Officers
President
Bobby Davis
Vice President
Oscar Mabry
Secretary
Treasurer
Thomas Smith
Chaplain
Reverend Joe A. Jackson
Parliamentarian
Varnell McDonald-Fletcher
Immediate Past President
Cleopas Mason