Welcome to the Wilson V. Eagleson Chapter of Tuskegee Airmen, Inc.
About Us: During the Second World War a group of black pilots and support personnel achieved an extraordinary record of service to our country despite having to overcome the racial barriers that existed during that period of time. These remarkable men became known as the Tuskegee Airmen.
As one of 51 chapters of the Tuskegee Airmen, Incorporated, the Wilson V. Eagleson Chapter was established in 1999 and is located in Goldsboro, North Carolina. North Carolina is the home of approximately 20 of the original Tuskegee Airmen; four of whom are members of the Wilson V. Eagleson Chapter. These four men are:
| | | | |
| --- | --- | --- | --- |
| Terry Bailey | Stewart Fulbright | George Shade | Harold Webb |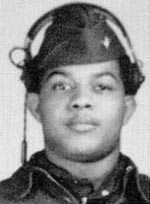 Wilson V. Eagleson, for whom our chapter was named, completed his civilian pilot training at West Virginia State College in 1939, and the Aviation Cadet Program at Tuskegee Army Air Field, in April of 1943. He was assigned to the Army Air Corps' 99th Fighter Squadron that later became part of the 332nd Fighter Group and was credited with two aerial victories during the war.
Lieutenant Eagleson, originally a native of Bloomington, Indiana, retired after serving 30 years in the U.S. Air Force. He died Easter Sunday 2006 at the age of 86. Throughout his life he enjoyed his family, especially his grandchildren. Much of his time was spent speaking and sharing his experience as a Tuskegee Airman at schools and other organizations throughout North Carolina.
Our Mission: The mission of the Wilson V. Eagleson Chapter of Tuskegee Airmen, Incorporated is to inspire young people to outstanding achievement and leadership in our democratic society through social and educational activities. To achieve this objective, the Airmen motivate, inspire and stimulate young people to study, sacrifice, and attain self-sustaining status with marketable skills in the fields of aviation and aerospace sciences. Our chapter also serves:
1. To honor the accomplishments and perpetuate the history of African-Americans who participated in air crew, ground crew and operations support training in the Army Air Corps during World War Two;
2. To introduce young people to the world of aviation and science through local and national programs such as Wright Flight, and;
3. To provide annual scholarships and awards through the Tuskegee Airmen Scholarship Foundation to deserving individuals, groups and corporations whose deeds lend support to our goals.
Become a Member: Those interested in preserving the heritage and continuing the legacy of the Tuskegee Airmen by assisting us in our mission are welcome to apply for membership to our chapter. Please contact us for an application and details.
Chapter Officers
President
Bobby Davis
Vice President
Oscar Mabry
Secretary
Treasurer
Thomas Smith
Chaplain
Reverend Joe A. Jackson
Parliamentarian
Varnell McDonald-Fletcher
Immediate Past President
Cleopas Mason